Anne Berberich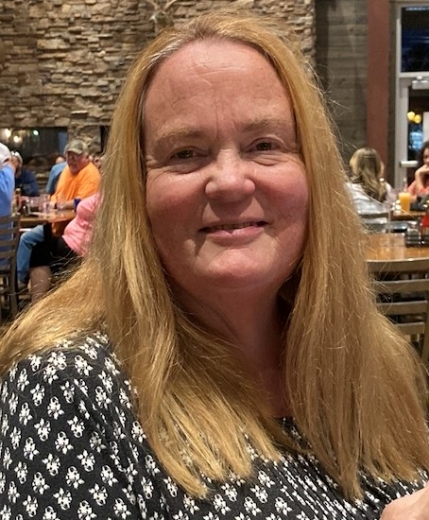 Anne Christine (Halvorson) Berberich of Rochester, MN passed away on Tuesday, Oct. 18, 2022 in Santa Cruz, CA. A memorial gathering will be hosted by Anne's family at the Plummer House, 1091 Plummer Lane SW, Rochester, MN from 1-5 p.m. Saturday, June 10.
Anne was born on February 22, 1958, in Albert Lea, MN to Jerome and Lois (Heath) Halvorson of Rake. She graduated from Rake High School in 1976 and attended college at Minnesota State University Mankato, where she earned a BA in Open Studies in 1980 and a Master of Arts in History in 1984. While there, she met her future husband, Carl Berberich; they were married in 1978 in Rake and had their daughter Christina in 1980. They made their home in the Mankato area until they moved to Rochester in 2001.
After college, Anne worked for the Girl Scouts of Peacepipe Council headquartered in Redwood Falls, MN from 1984 to 2001. After she and Carl moved to Rochester, she joined the United Way of Olmsted County, earning her certified fund-raising executive credential (CFRE) and becoming the Vice President of Resource Development until her retirement in 2016. Anne was valued and respected by her colleagues and the countless volunteers she engaged and trained. Her work supported leadership development of hundreds of girls for the Girl Scouts and numerous United Way projects to improve the lives of residents of Olmsted County and southeastern Minnesota. As her former co-workers said, "Anne embodied the spirit and values of the Girl Scouts to help girls become leaders and to make the world a better place".
Anne loved to swim, was an avid reader, a movie fan, and a fantastic Scrabble player. She was a gifted artist and painted several murals in the Rake School. She enjoyed traveling, be it camping, hiking, and backpacking, vacations to warm spots on the beach, cruises, or trips to other countries. A special joy was family vacations at Bottle Lake in northern Minnesota, one of her favorite places where she vacationed many summers for over fifty years.
Anne's family could always count on her for support and for fun. She was a wonderful cook and could make an ordinary meal or picnic into a special event. The family looked forward to her making klub for family gatherings, and at an early age her nephews were enlisted to grind the potatoes. She loved playing cards and board games, and family gatherings usually included lively games after the dishes were cleared. Most recently, she spent her days with her grandson Gus, who was the light of her life. They took daily walks to the beach, always finding a new discovery or adventure. Her presence in both her family and in the many communities she touched will be deeply missed.
Anne was preceded in death by her parents, Jerome and Lois Halvorson. She is survived by Carl, her husband of 44 years, her daughter Christina and husband Dan, and grandson August (Gus) of Santa Cruz, CA. She is also survived by her three brothers, Joel Halvorson of Rake and Linda Bosma of Eagan, Paul and Dana Halvorson of Rake, Matthew Halvorson of Bullhead City, AZ; and many cherished extended family and friends.
In lieu of flowers, the family requests contributions be made in memory of Anne to the Girl Scouts. Checks can be sent to Girl Scouts of Minnesota and Wisconsin River Valleys, Attn: Anne Berberich Memorial, 400 Robert Street South, St. Paul, MN 55044. To make a memorial gift online, visit https://www.girlscoutsrv.org/donate
Category:
The Buffalo Center Tribune
The Buffalo Center Tribune
PO Box 367
Buffalo Center, IA 50424
Phone: 641-562-2606
Fax: 1-800-340-0805
Email: bctrib@wctatel.net
Mid-America Publishing
This newspaper is part of the Mid-America Publishing Family. Please visit www.midampublishing.com for more information.