Arvilla Smidt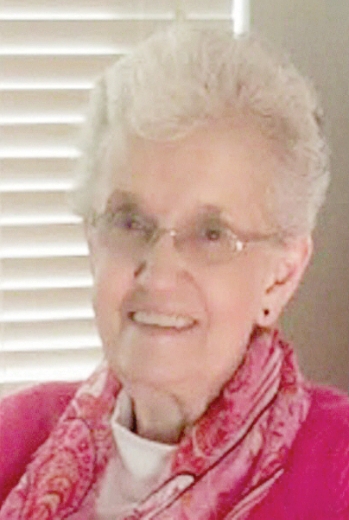 Arvilla Pearl Smidt, 87, of Blue Springs, MO, passed away peacefully on Thursday, Dec. 29, 2022 at Ignite/St. Mary's of Alzheimer's disease. A Celebration of Life was held at First Baptist Church of Odessa, MO on January 9, 2022, on what would have been Arvilla's 88th birthday. Visitation was at 1 p.m. at the church, followed by the service at 2 p.m. We rejoice that she will be singing and baking with the love of her life in heaven on her birthday.
Arvilla was born on January 9, 1935 in Buffalo Center. Following a whirlwind long-distance courtship with a local Marine stationed in California (Arvilla even received her engagement ring in the mail), she married Bill Smidt in 1954. Together they raised four children on a farm near Ledyard. Arvilla dedicated herself to keeping both her house and children in tip top shape. Never one for mediocrity, she took pride in her nearly spotless home and her children's accomplishments.
Arvilla was famous for her baked goods, especially her cinnamon rolls. Those in her inner circle could debate the merits of the frosted rolls versus the caramel topped rolls (hint, both were wonderful). She was skilled at needlework and knitting, and an exceptional seamstress who made nearly all of her and her girls' clothes. In all her daily tasks, she literally whistled while she worked!
She was a life-long lover of music, always led the alto section in her church choirs, and happily shuttled the kids all over northern Iowa and southern Minnesota for lessons, competitions, and performances. And let us not forget that sacred time every Saturday night when the Lawrence Welk show came on TV! In all seriousness, Arvilla was a woman of strong faith, always active in the church, which was the hub of both her religious and social life; her enduring and closest friends were from her church family.
Bill and Arvilla left their Iowa farm in 1983 for Eau Claire, WI, and later moved to the Kansas City area to be closer to their family, where Bill worked as a Certified Dietary Technician, and Arvilla worked as a housekeeper for various clients. She was a voracious reader, collected cookbooks which fueled her love of cooking and baking, and walked almost daily until recent years. Above all, she took great delight in visiting and spending time with her children, grandchildren, and great-grandchildren.
Survivors include her children, Kathy Renander (Jack) of Odessa, MO, Ginny Noblet (Rob) of Savannah, MO, Joyce King (Tom) of St. Louis, MO, Jon Smidt (Lisa) of Peyton, CO; 9 grandchildren; 26 great-grandchildren; and brothers David Murra and Alan Murra.
She was preceded in death by her father Andrew Murra, her mother Susan, her sister Artis, her husband William (Bill) Smidt, and infant son Billy Jay Smidt.
Memorial contributions may be made to The Alzheimer's Association at act.alz.org
Category:
The Buffalo Center Tribune
The Buffalo Center Tribune
PO Box 367
Buffalo Center, IA 50424
Phone: 641-562-2606
Fax: 1-800-340-0805
Email: bctrib@wctatel.net
Mid-America Publishing
This newspaper is part of the Mid-America Publishing Family. Please visit www.midampublishing.com for more information.