Charlotte Thorland Oulman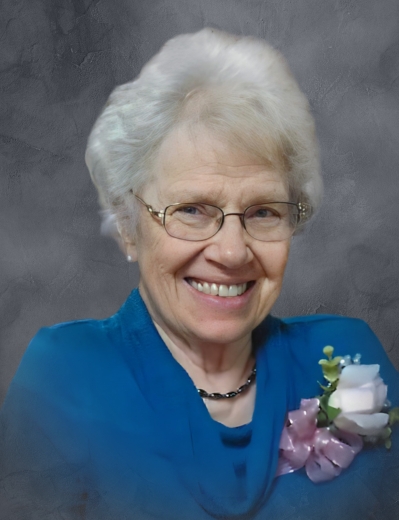 Charlotte Elaine Thorland Oulman, 93, of Thompson, Ia. died, Monday, March 13 at the Good Samaritan Center in Forest City.
A funeral service for Charlotte will be held at 10:30 a.m. on Saturday, April 1 at Bethany Lutheran Church, 183 2nd Ave. E. in Thompson with Pastor Zech Anderson officiating. Visitation will be from 4-6 p.m. on Friday, March 31 also at Bethany Lutheran Church. Burial will take place in Rose Hill Cemetery, Thompson. In lieu of flowers, memorials may be directed to the Bethany Lutheran Church in Thompson.
Charlotte Elaine was born November 17, 1929 in Mt. Valley Township, rural Forest City, the daughter of Alfred and Ida (Bartleson) Brones. She was married to Erling Thorland and to this union, two sons were born: David and Stephen. Erling died unexpectedly in 1983. Charlotte met Dick Oulman and they were married January 1, 1988.
Charlotte taught elementary school in Crystal Lake, Titonka and finally Lakota for over 23 years. She also was the librarian at the Thompson Library for many years. She loved reading, quilting, traveling and spending time with her family and friends. She loved riding her pedal bike and even was a part of the first RAGBRAI in Iowa, something she was proud of. Charlotte and Dick loved to dance and did so with friends for many years. Charlotte was a wonderful wife, mother and especially grandma! She will be dearly missed by all who knew and loved her.
She was a long-time member of the Bethany Lutheran Church, women's circle and she volunteered in many different capacities.
Charlotte is survived by her husband, Dick Oulman of Thompson; sons, David Thorland and Stephen (Amy) Thorland of Thompson; step-children, Beverly (Dave) Schultz of Johnston, Ia. and Randy Lee Oulman of Owatonna, Minn.; grandchildren, Tonnes (Katie) Thorland and Tristan (Tabitha) Thorland; step-grandchildren, Jason (Jackie) Carolus, Laurie (Brian) Atkins, Dawn (Matt) Schellinger; great-granddaughter, Emma Thorland and ten step-great grandchildren; brothers, Allen (Billie) Brones of Denver, Colo. and many nieces and nephews.
She is preceded in death by her parents; first husband, Erling Thorland in 1983 and great-grandson, Henry Thorland.
You can contact the family with on-line condolences at: www.schottfuneralhomes.com (641)-585-2685
Category:
The Buffalo Center Tribune
Mid-America Publishing
This newspaper is part of the Mid-America Publishing Family. Please visit www.midampublishing.com for more information.