Ethel Kiewiet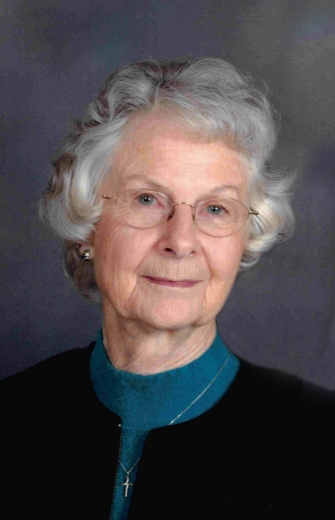 A funeral service for Ethel F. Kiewiet, 93, of Buffalo Center, will be held Saturday, July 29, 2023, at 10:30 a.m. at the Buffalo Center United Methodist Church with Pastor Janelle Jacobsen officiating. Inurnment will follow at Graceland Cemetery in Buffalo Center. Her family will greet friends from 9:30 a.m. Saturday until the time of service.
Ethel Francis Kiewiet was born September 5, 1929, in Frost, MN, to Bert and Lillie (Arnold) Dearing. She graduated from Buffalo Center High School in 1946. Following graduation she worked at a local grocery store, and then on April 27, 1949, she married the love of her life Rollin "Todd" Kiewiet. To this union five daughters were born: Karen, Kendra, Kay, Kristy, and Kerrie.  
Together they farmed near Buffalo Center. Ethel loved her family and was known for her excellent cooking and baking, and for being a very avid walker. She was also a seamstress, making clothes for her girls, beautiful quilts, and crocheted afghans, while always finding time to enjoy coffee with her family, friends, and neighbors. During retirement, she and Todd enjoyed taking small trips, tending their beautiful flower gardens, and helping in the community when needed.
After her girls had grown, she worked at the nursing home and also did painting and wallpapering. Ethel was an active lifelong member of the United Methodist Church in Buffalo Center. She had a strong faith and loved the Lord. She was also active in the American Legion Auxiliary.  
In January of 2016, she became a resident of Timely Mission Nursing Home, where she was lovingly cared for. She died there on Sunday, July 16, 2023, at the age of 93. 
 She is survived by four daughters: Kendra Hanna and her husband Keith of Northfield, MN, Kay Silber and her husband George of Rochester, MN, Kristy Frerichs and her husband Keith of Buffalo Center, and Kerrie Kollasch and her husband Dennis of Mankato, MN; and a son-in-law Greg Engleman of Astoria, OR. She is also survived by her grandchildren: Angela Fry, Jeffery (Amanda) Engleman, Monica (Oliver) Schugel, Todd (Melissa Young) Hanna, Tyler (Steph) Hanna, Rachel Silber, Sarah Silber, Kelly (Jayden) Grupe, Kyle (Mara) Frerichs, Katelin Frerichs, Derrick Kollasch, and Jenna Kollasch. Also left to cherish her memory are 14 great-grandchildren; four great-great grandchildren; and many nieces, nephews, and many other relatives and friends.
She was preceded in death by her husband, Rollin "Todd" in 2018; a daughter Karen Engleman; her parents; sisters and brothers: Virina Mae (in infancy), Evelyn Shortenhaus, Marvin Dearing, Willard Dearing, Genevieve Oftedahl, Vivian Larson, and Elaine Allison. 
The family would like to thank you for the kindness shown to us at this time.
Oakcrest Funeral Services of Buffalo Center in charge of arrangements. Online condolences may be made to www.oakcrestfuneralservices.com
Category:
The Buffalo Center Tribune
Mid-America Publishing
This newspaper is part of the Mid-America Publishing Family. Please visit www.midampublishing.com for more information.