Evelyn Anderson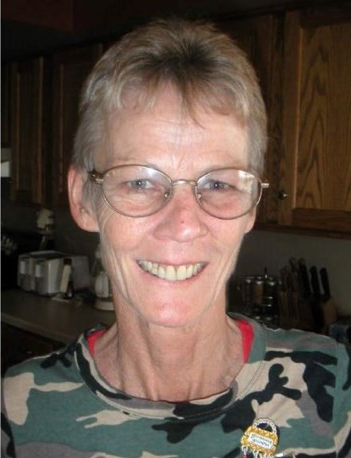 Evelyn (Evie) Arlene Anderson, age 74, of Chaska, MN passed away August 6, 2022.
Evelyn (Evie) was born July 8, 1948, to Richard and Esther (Stenerson) Thompson in Buffalo Center. She attended Buffalo Center High School. She met and married Merlin Morgan December 3, 1965. They had three children, Luther (Luke), Jayne and Lee.
In the early '70s, they moved to Lake Mills, where they made their home. Evie went back to school and graduated in 1976 from Lake Mills High School. She worked for Winnebago Industries, bartended at the REC and for years, and at the Branding Iron in Thompson. They divorced in 1983.
Evie stayed in Thompson for a while before moving to Hollywood, CA in the mid to late '80s. She worked at the Casting Office as a bartender, where she met and later married Ken Anderson, on March 6, 2001 in Clark County, NV. Together they moved to Florida in 1989, where they lived on a sailboat (The Duckus Too) for 10 plus years. They eventually purchased a home together in Hallandale Beach, FL. Evie worked with her husband Ken, who was employed through McMannis Enterprises as a Lighting Director.
Their careers took them to many exciting places over the years. Performing the lighting for Nickelodeon TV shows in early 90's, "What would you do?" with Marc Summers, sporting events worldwide, primarily for HBO and Showtime Boxing in Atlantic City, Las Vegas, and New York. She was proud to say they were part of the crew that lit up Olympics in Sydney, Australia, Atlanta, Georgia, and Barcelona, Spain. She loved what they did and took great pride in her work.
After Ken retired, Evie kept working for Panera Bread in Hallandale Beach, another job that she loved doing. After Ken passed away in May of 2013, Evie stayed in Florida because she loved the warm weather. Some of her joys in life were journaling and meaningful quotes, metal detecting, traveling, the color baby blue, ice cream, fresh peas out of the garden, the smell of lilacs, meeting new people, and watching TV shows such as "The Price is Right," "Forensic Files," ID TV, "Two and a Half Men," and "Let's Make a Deal." Her greatest joys were spending time with her sisters, kids, grandkids and pets, Reuben and Pita.
In 2017, Evie was diagnosed with a terminal illness and moved to Minnesota with her son, Luke, where she stayed the remainder of her days to be closer to her family. Evie passed away peacefully in her sleep on August 6, 2022, with her children by her side.
She is preceded in death by her parents, Richard and Esther Thompson; husband, Ken Anderson; brother, Larry Thompson; and sisters, Joan Moss and Carol Miressi.
She is survived by her children, Luke (Julie) Morgan of Chaska, MN, Jayne (Mike) Bolster of Austin, MN, and Lee (Jessica) Morgan of Boone; stepdaughter, Julie Anderson of Palm Beach, FL; stepson, Brian Anderson of New York, NY; brother, Ronald Thompson (Barb) of Des Moines; 11 grandchildren; 10 great-grandchildren; and one great-great-grandchild.
Online condolences may be left for the family at https://obituaries.neptunesociety.com/obituaries/golden-valley-mn/evelyn...
Category:
The Buffalo Center Tribune
Mid-America Publishing
This newspaper is part of the Mid-America Publishing Family. Please visit www.midampublishing.com for more information.