Irene Wempen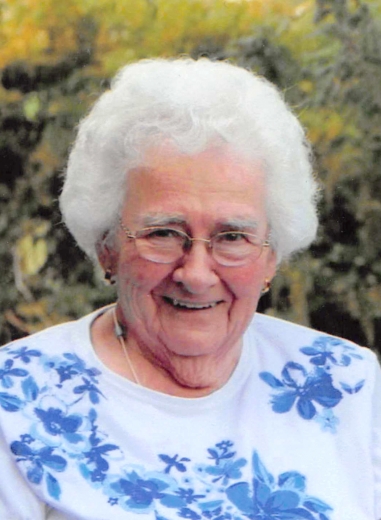 A funeral service for Irene Wempen, 97, of Buffalo Center, was Friday, May 12, 2023, at 11:00 AM at the First Baptist Church in Buffalo Center. Visitation was held Friday, May 12, 2023, from 9:30 to 11:00 AM at the church. 
Irene Mae (Thompson) Wempen was born to Lauren and Goldie (Steele) Thompson on July 2, 1925, on the "Hook Farm" southwest of Buffalo Center.  She attended country school southeast of Buffalo Center and graduated from Lakota High School in 1943.  As the oldest of thirteen, Irene did a lot of babysitting – especially when her parents would go up north to Uncle Vernell's fishing.  After graduation she worked several jobs in town taking care of families. 
On July 22, 1946, she married George Wempen at the First Baptist Church in Blue Earth.  They built a one-bedroom house on the Wempen home place where they lived until 1956 when George's parents moved to town.  Then they were able to move into the big house with their four boys.  Later they added a daughter and another son to their family.
Irene spent many hours in the kitchen making meals for her family and those who worked around the farm (corn shellers, guys baling hay, filling silo).  She kept busy helping with the farm, gardening and planting flowers.
 In 1983 George and Irene built their retirement home in Buffalo Center.  Irene enjoyed having coffee with her friends, sewing, making quilts and crafting.
Irene moved to the Titonka Care Center in November 2015 where she enjoyed playing bingo, watching birds, doing word searches and reading her Bible.
Irene was a member of the First Baptist Church in Buffalo Center.  She accepted Jesus Christ as her personal Lord and Savior.  She enjoyed serving Him in different ways at the church including church treasurer and helping with AWANA for its entire 33 years. 
Irene died Sunday, May 7, 2023, at the Titonka Care Center at the age of 97.
Irene is survived by her six children:  Duane and his wife Trish of Stratford, IA, Dale and his wife Janet of Fairmont, MN, Eugene of Humboldt, IA, Rodney and his wife LeAnn of LuVerne, IA, Diane and her husband Gary Boyken of Titonka, IA, and George Jr. and his wife Jennifer of Buffalo Center, IA;  16 grandchildren:  Chad, Ned, Kevin, Laurelee, Dave, Jody, Chad, Derek, Brad, Ryan, Stephanie, Ashley, Abbi, Diedrich, Coy, and Jace; 38 great grandchildren, step grandchildren, and step great grandchildren. Also surviving are brothers Eldon, Roger, and Larry; sisters Ruth Harringa, Janice Winter, and Sharon Burt; and many nieces and nephews as well as extended family members and many friends.
Irene was preceded in death by her parents, husband George in 2014, brothers Harold, Everett, Raymond, Howard, Glen, sister Dorothy Vodraska, daughter-in-law Diane Wempen, and granddaughter Alicea Wempen.
The Family would also want to thank you for your memorial gifts in advance.  In lieu of thank you cards your gifts in honor of Irene will be given to KJLY Radio and Gideons International.  During a time like this we realize how much our family and friends really mean to us. Your expression of sympathy will always be remembered. 
To leave an online tribute please visit www.oakcrestfuneralservices.com.
Category:
The Buffalo Center Tribune
Mid-America Publishing
This newspaper is part of the Mid-America Publishing Family. Please visit www.midampublishing.com for more information.