Janette Meyer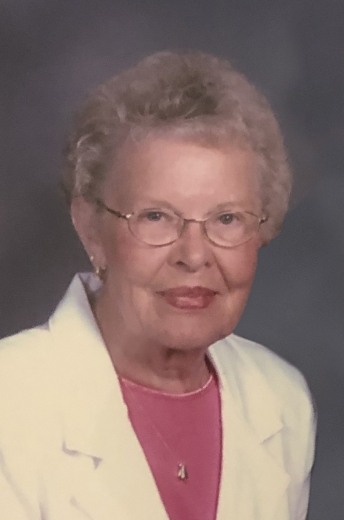 Janette Mae Meyer, age 89, died Monday, August 3, 2020, at the Valley Vue Care Center in Armstrong. Private family funeral services were held for Janette Meyer at 11 a.m. on Monday, Aug. 10, 2020, at the St. Paul Lutheran Church in Lakota with Pastor Chad Duffy presiding. Burial was in the St. Paul Lutheran Cemetery.
Janette was born May 19, 1931, in Ledyard, the daughter of Willis and Ora (Cassem) Pingel. She grew up on a farm near Ledyard and graduated from the Ledyard High School in 1949. After her schooling she went to work for Carpenter and Son in Ledyard.
On April 17, 1955, Janette was united in marriage to Roger Meyer at St. Paul Lutheran Church in Lakota. They lived in Lakota after they were married and for many years Janette worked as a bookkeeper for the EJ Butler Company in Elmore, MN, and later went to work for Kemna Motor Company as a bookkeeper.
Janette and Roger loved to dance and would travel to the nearest dance floor where they spent many hours on the dancing. She also enjoyed playing cards, cooking, baking and traveling to Branson. Janette was an active member of the St. Paul Lutheran Church and served on the Altar Guild.
She is survived by her husband of 65 years, Roger Meyer of Lakota; sons: Brian (Joan) Meyer of Fairmont, MN; Lowell Meyer of Owatonna, MN; two grandchildren: Danielle Meyer of Brookings, SD, and Dustin Meyer of Fairmont, MN; siblings: Otto (Dorothy) Pingel of Swea City; Joyce (Wayne) Risk of Elmore, MN; Gloria (Gary) Eichhorn of Elmore, MN; Marion Meyer of Buffalo Center; and many nieces and nephews.
Janette was preceded in death by her parents; and sister, Ardella Oldenburg.
Oakcrest Funeral Services in Buffalo Center is assisting the family. To leave an online condolence, visit www.oakcrestfuneralservices.com
Category:
The Buffalo Center Tribune
The Buffalo Center Tribune
PO Box 367
Buffalo Center, IA 50424
Phone: 641-562-2606
Fax: 1-800-340-0805
Email: bctrib@wctatel.net
Mid-America Publishing
This newspaper is part of the Mid-America Publishing Family. Please visit www.midampublishing.com for more information.