Jeannette Ennen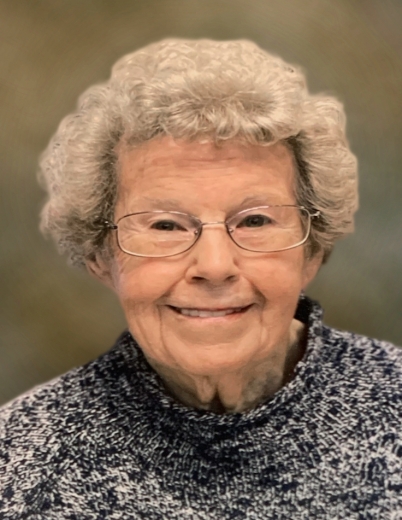 Jeannette Ennen, 87, of Buffalo Center, died Wednesday morning, July 27, 2022 at Kossuth Regional Health Center, in Algona. A funeral service was held Friday, July 29, 2022 at 10:30 a.m. at the Buffalo Center United Methodist Church. The service was live streamed at https://youtu.be/LhhQr-tftRs. Burial was in Graceland Cemetery in Buffalo Center.
Jeanette Ann (Steffensen) Ennen was born in Forest Township on October 8, 1934, to Arthur and Zilpha (Oleson) Steffensen. She departed from this world on July 27, 2022, at KRHC, Algona, after a full life of 87 years, 9 months and 19 days.
She lived in Buffalo Center area with her parents, six brothers and four sisters and attended school in Buffalo Center. On July 1, 1951, she married Markley Ennen at the Little Brown Church in Nashua. Their union was blessed with five children, Debra, Pauline, Diane, Randy and Ronny.
Jeanette was an avid gardener and was actively involved in farming with her husband, including raising crops, Hy-Line chicks, cattle, sheep and hogs. She was an active member of the United Methodist Church involved in choir, Sunday School, UMW, Administrative Board, and Annual Pork Supper.
She enjoyed a lifetime of farming, traveling with her husband, delivering motor homes, fishing, spending time with neighbors and friends, as well as attending family reunions.
Left to cherish her memories include her children Deb (Bruce) Venteicher from Algona, Dr. Randy (Josline) Ennen from Fort Smith, AR, Ronny (Debra) Ennen of Buffalo Center; son-in-law Gene Wempen of Humboldt; grandchildren Brett (Rachel) Venteicher, Chris (Tara) Blomster, Scott (Gina) Venteicher, Jennifer (Pete) Burns, Mara (Michael) Walstead, Chad (Jennifer) Wempen, Derek (Stacy) Wempen, Tiera (Davis) Cooper, Elijah Ennen, Benjamin (Angela) Ennen, Thaddeus (Stephanie) Ennen, Jeremiah (fiancé Kala Ingwell) Ennen; great grandchildren Lainey, Gabby, Caleb and Jenna Venteicher, Sean and Holly Blomster, Gwendalyn, Simon and Roscoe Venteicher, Weston and Everett Burns, Jessa and Will Walstead, Tyler, Ethan and Andrew Wempen, Reegen, Tayla, and Jerzie Wempen, Weston Cooper, Katie, Rowan and Samuel Ennen. She is also survived by her siblings Betty Mitchell of Mankato, MN and Marvin Steffensen from West Des Moines; and many nieces and nephews.
She was preceded in death by her parents; her husband Markley; daughter Diane Wempen; an infant daughter Pauline; and five brothers and three sisters.
Oakcrest Funeral Services of Buffalo Center in charge of arrangements. Online condolences may be made to www.oakcrestfuneralservices.com
Category:
The Buffalo Center Tribune
Mid-America Publishing
This newspaper is part of the Mid-America Publishing Family. Please visit www.midampublishing.com for more information.