Johanna Meinders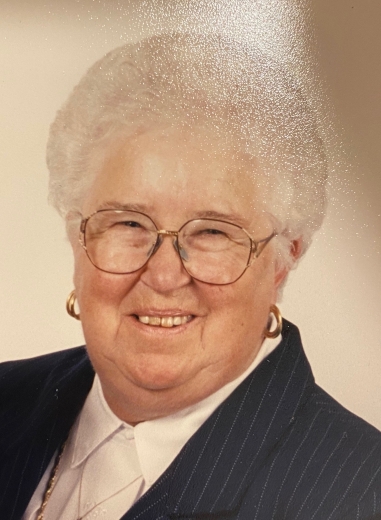 Johanna Margaret Kettwich Meinders, age 89, passed away on Saturday, August 1, 2020 at Timely Mission Nursing Home in Buffalo Center. Due to Covid-19, the family will have a private burial service on Friday, Aug. 7 at 11 a.m., which will be live streamed on Oakcrest Funeral Services Facebook page.
Johanna was born Jan. 30, 1931 at home near Titonka, the daughter of Harm and Gesine Kettwich. She was seven years old when her mother passed away in 1938. Her dad married Tena Swyter in 1940 and she and her brother Herman always considered Tena their mom because she was so good to them. With that marriage came other siblings whom she had a very close relationship with, Berniece Kellie, Juniece Beenken, Thresa Baade, and Phyllis Baade.
She was baptized at the Immanuel Lutheran Church and confirmed at the Ramsey Reformed Church, both near Titonka. She married Alvin Meinders in 1950 in a double ceremony with her sister and brother-in-law, Juniece and Eugene Beenken. They remained lifelong members of Ramsey Reformed Church, where she was involved in the Ladies Circle.
Johanna enjoyed living on the farm and delivering Winnebago motor homes. During that time, she and Alvin delivered over 300 motor homes. They enjoyed seeing a lot of the country. She also enjoyed her family and embroidered blocks for the many quilts that she made for her family.
She is survived by her four children: Donna Hinz of McAllen, TX, Shirley Salz of Ankeny, Dennis and his wife, Dawn, of Buffalo Center, and Larry and his wife, Shelly, of Buffalo Center; six grandchildren: Cory Hinz, Jesse Hinz, Laura Furne, Lisa Berggren, Alyssa Wright and McKenzie Meinders: 11 great-grandchildren; two great-great-grandchildren; sister, Juniece Beenken; and brothers-in-law: Ray Baade, Alfred Baade and Wilbert Meinders.
Johanna was preceded in death by her husband, Alvin; her parents; and her siblings.
In lieu of flowers, memorials may be directed to Ramsey Reformed Church or Timely Mission Nursing Home.
Oakcrest Funeral Services in Buffalo Center is assisting the family. To leave an online condolence, visit www.oakcrestfuneralservices.com
Category:
The Buffalo Center Tribune
The Buffalo Center Tribune
PO Box 367
Buffalo Center, IA 50424
Phone: 641-562-2606
Fax: 1-800-340-0805
Email: bctrib@wctatel.net
Mid-America Publishing
This newspaper is part of the Mid-America Publishing Family. Please visit www.midampublishing.com for more information.