Marilyn Eichenberger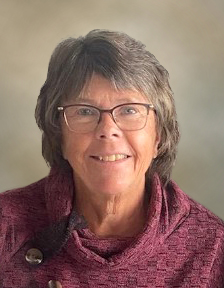 Marilyn E. Eichenberger, 68 of Lakota, died peacefully on Sunday, Sept. 11, 2022.
A Celebration of Life for Marilyn will be held at 10:30 a.m. on Monday, Sept. 19, 2022, at the Eagle Center in Lakota. Burial will follow at Highland Home Cemetery in Ledyard.
Marilyn (Dontje) Eichenberger was born December 8, 1953, in Ledyard, to Edwin and Marian (Sleeper) Dontje. She attended and graduated from Ledyard High School in 1972. During her time in school she was active in the band and many of the plays. Following high school, she furthered her education at the Medical Institute of Minnesota and later at University of Minnesota.
On December 7, 1979, Marilyn married Lowell Eichenberger of Lakota. They farmed in the surrounding area of Lakota and Ledyard, and she also worked as a Laboratory Technician and a phlebotomist in Algona and in Blue Earth. Marilyn enjoyed being a mother and grandmother more than anything, but she loved everyone, and everyone felt it when they would meet her! She enjoyed gardening, canning, working at the fair as a 4-H leader, making homemade bread, meals for the family, and more recently spending winters in Arizona with her husband and many new friends she made down there. While down there, she enjoyed making a quilt each year for her new grand baby, ATVing, and playing cards.
She loved attending her boys' sporting events and would be the most vocal cheerleader for them in the stands! Her highlight was when Gary's senior year baseball team, coached by assistant Graig and bat boy Grady, played in the state baseball tournament. The last seven years, she has been busy doing what she loved, raising grandchildren. You were sure to hear a story about one of them when you talked with her. Family was everything to her, and she cherished every moment of it.
Marilyn is survived by her husband: Lowell Eichenberger of Lakota; three children and seven grandchildren: Graig (Melinda) Eichenberger of Pleasantville and their children Brooks, Boone, and Beau; Gary (Elizabeth) Eichenberger of Kearney, MO and their children Auggie and Hank, and Grady (Jenny) Eichenberger of Norwalk and their children Jace and Grace. She is also survived by her sister Nitah (Bob) Boettcher of Blue Earth, MN; brothers-in-law Lloyd (Linda) Eichenberger, Lon (Martha) Eichenberger, Larry (Kim) Eichenberger; sister-in-law Lisa Eichenberger, and many nieces and nephews.
Marilyn was preceded in death by her parents, Edwin and Marian Dontje; her parents-in-law, Lloyd and Helen Eichenberger; her brother, Gail Dontje; and a nephew, Donovan Dontje.
Oakcrest Funeral Services of Bancroft in charge of arrangements. Online condolences may be made to www.oakcrestfuneralservices.com.
Category:
The Buffalo Center Tribune
Mid-America Publishing
This newspaper is part of the Mid-America Publishing Family. Please visit www.midampublishing.com for more information.